This week we were visited by Conni Rosewarne who is filming parts of the archive for her third year university project.
Conni was particularly interested in material relating to Greenham Common, as both her grandmother and mother protested at the camp. Greenham Common Women's Peace Camp, established in Sept 1981, was a protest against the presence of nuclear cruise missiles on British land. Missiles were removed from the camp in 1991, but women still protested there until 2000. For more information about the camp, please visit here and here.
This photo is a piece of the fence, which women used to cut into during actions.
This photo is of a collectively made shawl by Greenham Women which depicts a number of spider webs sewn together. Before the world wide web connected people across the world, women at Greenham used the metaphor of a spiders web to imagine global connections between peace activists.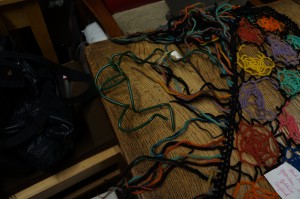 Conni in action! She has promised to send us her film when it has been made – so watch this space!
Another close-up of the fence – a highly emotive part of our collection. If you want to see some amazing pictures of Greenham, visit Cary Welling's site.