In 2010-2011 the Heritage Lottery Funded Sistershow Revisited: Feminism in Bristol, 1973-1975.
The project used the antics of Sistershow, an anarchic theatre and arts troupe to tell the history of feminism in Bristol during 1973-1975.
There is extensive documentation of the project, which produced a three week exhibition at Centrespace Gallery, a book and a series of cultural events, on the blog. It includes photos, audio and film and is well worth a look!
The exhibition catalogue is still available from HammerOn Press.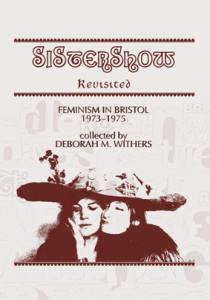 The book and exhibition was designed by Jan Martin, who also made the fetching banner for this site.