Don't miss this rare opportunity to see Born in Flames on Sunday 12 October at Watershed. It is part of the Afrofuturism season curated by Edson Burton taking place throughout October.
Independent filmmaker, artist and critic Lizzie Borden (yes, her real name!) made her feature debut with this bold and brilliant fusion of sci fi and feminist politics, a comic fantasy of female rebellion that we welcome to Bristol for this extremely rare screening. It's 10 years after a socialist revolution in the United States, and the leader of the Woman's Army is mysteriously killed, setting off a seemingly impossible coalition of women – crossing all lines of race, class, and sexual preference – to take down The System.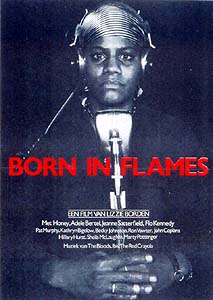 Whistle blowing female bicyclists swoop down on would-be rapists, male construction workers protest that their female colleagues are monopolising the best jobs, and there are funny and thrilling encounters between groups of women ranging from militant black lesbians to white punks.
Screening with Pumzi, Kenya's first science fiction film, a poetic and imaginative vision of a dystopian future 35 years after water wars have torn the world apart. It tells the story of Asha, a young botanist who risks everything as she escapes to the outside world to nurture a precious plant.
With an introduction and Q&A from Chardine Taylor-Stone, writer, DJ, and founder of black speculative fiction book club Mothership Connections.