Its the last week you can see the Bristol-based LGBT history group Outstories' exhibition Revealing Stories, which is being displayed at MShed.
Revealing Stories is part of LGBT history month and tells the (sometimes hidden) histories of LGBT people and communities in Bristol and the South West.
It also includes a number of artefacts from the Feminist Archive South, such as the Bristol Lesbian Line Banner below, and copies of Move, the local lesbian publication from the 1970s.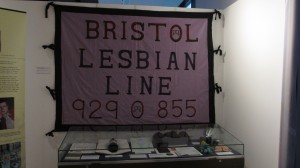 The exhibition is a fantastic achievement and a valuable tool to educate people who may not know about the experience of LGBT people.
It is moving and lovingly constructed, and will no doubt help contribute to the gradual de-stigmatisation of LGBT people in Bristol, and beyond. Well done Outstories!
Go see it before it is gone!