The Feminist Archive South is continuing to get increased use from students (undergraduate and postgraduate) from the University of Bristol and further afield (UWE, Bath, Exeter, Bath Spa and beyond).
In March 2014 we held four workshops when we hosted all of the first year University of the West of England design students (around 80 in total).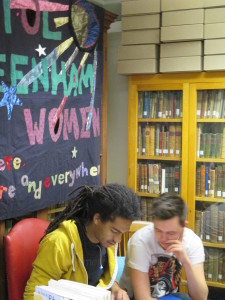 They were inspired by the collection to create their own pieces of work, and a fascinating time was had by all involved, students and staff alike. Discussions took place on Greenham Common, Miss World (and alternatives to Miss World), Sistershow, relationships, art work, 1950s central Europe, and everything else!