The latest item we have catalogued contributes to our already significant collection relating to Greenham Common Women's Peace Camp.
We were recently contacted by Michael Wood, the son of Mrs. Jocelyn Wood, who sadly recently passed away, to see if we would be interested in housing a piece of the Greenham Common fence and some photographs of the camp. Of course we said yes!
An email from Michael is included below to introduce his mother's text, which outlines her memories of being stationed at Greenham Common during the Second World War, years before she returned to Greenham as an activist.
A big thankyou to Michael for letting us post this story on the website, along with the photos. If you want to view the items in the flesh, they bear the catalogue number DM2123/1/Archive Boxes 129.
'Hello
My wife has recently contacted you about a piece of fence from Greenham Common from my mother (Jocelyne Wood, nee Withycombe) – correspondence below. We think she has some photos as well which we will try to dig out and send them together.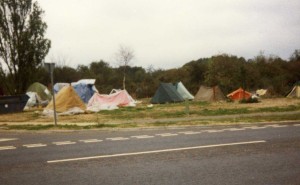 She did write a few notes about her life – nothing about going to Greenham during the seventies (?) but she was stationed there for a few months during the war until the Americans arrived – see attachment.
We'll be in touch again when we've found the photos.
Best wishes
Michael (Wood)'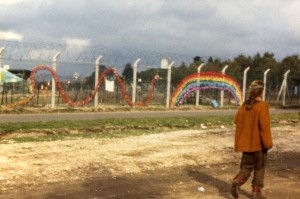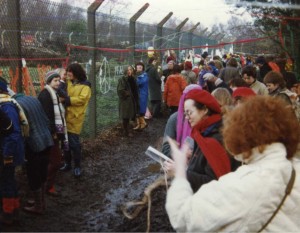 RAF Greenham Common was like a holiday camp after Hednesford, I spent three very enjoyable summer months there July to August 1943, WAAFs were billeted in a large house with a garden stretching down to the Kennet, a fast flowing chalk stream, It was ideal bathing, We were working outside doing daily inspections on Oxfords, which in good summer weather was pleasant work.
We did the same jobs as the RAF – for which as far as I can remember we got half the pay, NCOs were all RAF and most had served RAF apprenticeships.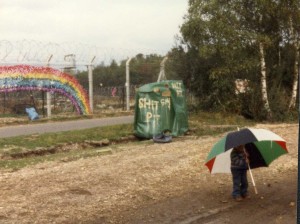 Greenham was a Training Command station. WAAF mechanics were never sent to active service stations – a fact you were not told when you joined up. Our Greenham was very different from the USAF cruise missile base, The main Basingstoke road, now diverted, ran through the camp. As far as I can remember there were no fences even round the runway. It trained for night flying so there must have been some way of stopping traffic when flying was in progress.
Hitching to Fleet from Greenham was easy usually only taking about an hour, so I went home a lot – sometimes just for a half day.
The road to Basingstoke was beautiful with wild clematis and scabious. I had my cycle with me as did most of the others. A favourite evening ride was to Kingsclere where there was a good YM canteen in a magnificent barn. (I have since tried without success to identify that barn.)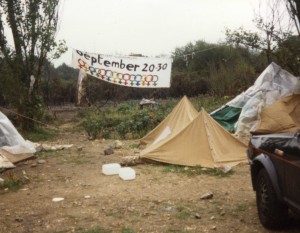 The Services' canteens and hostels were very useful, There were hostels in most major towns which I made much use of on my hitching expeditions. London ones were particularly useful making theatre visits possible, A uniform opened many doors. Looking back it seems very unfair. Girls conscripted to factories like ROF Chorley worked much harder and for longer hours than we did, were away from home living inferior hostels with inferior food but had no such facilities, nor did the Land Army.
For other entertainment there was Newbury and the Americans, There were several US bases nearby that invited us to dances, The main attraction was the food rather than the G.I.s most of whom were boring. There were WO exceptions, I got to know David McGeon because I happened to tell him I was reading War & Peace. I went out with him several times. He was a film script writer and was fairly left wing. He was interesting, but too introspective to be easy company, Then Stan Sobolewski took over. I met him at a dance at the Corn Exchange in Newbury from where we walked through the park by the river orchestrated by thunder and lightning – but no rain.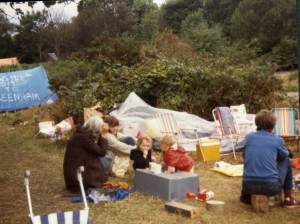 I saw a lot him during the next two weeks. He was tall, dark and handsome and very attractive, but not political. He was of Polish origin and came from Detroit, Two weeks later the blow fell: the Americans were taking Greenham over and the RAF had to move. Stan and I corresponded for several months and met once in London, but the magic had gone. I had had a lucky escape.
The news of the move was devastating to everyone. We all liked Greenham. We had one week's notice. A special train was provided for the move. The whole station packed up and moved. Our destination was Long Newnton, Glos. It was an unattractive camp and the nearest town, Tetbury, was no compensation for Newbury in spite of its lovely old buildings. I was there less than a week before I was posted yet again – to the Fitters' Course at Halton.