In January 2013 the Feminist Archive South were awarded a grant from the Heritage Lottery Fund to catalogue Ellen Malos' archives.
The grant provides resources to employ a part time archivist and deliver a series of educational activities based on Ellen's archives and the holdings of the Feminist Archive South. The project will run for eight months, from February-September 2013.
Ellen Malos was a key figure in the Bristol Women's Liberation Movement. The first Women's Centre opened in the basement of her house in 1973, and her work supporting vulnerable women has been recognised through an Honoury Doctorate at Bristol University (2006), and in the naming of the Next Link Women's Safe House, 'Ellen Malos House' (12 June 2007).
As activist and later, academic, Ellen was involved at the forefront of advancing gender equality locally, nationally and transnationally. Her archive comprises rare historical material, including documents that have shaped some of the most significant legal and policy transformations within British history relating to gender quality.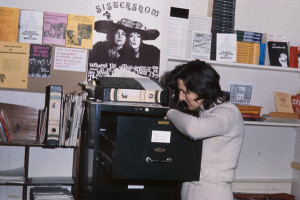 As part of the grant, the Feminist Archive South will run a series of workshops from April-July 2013 that will take place at MShed in the centre of Bristol, a wheelchair accessible venue. Full details of workshop dates will be uploaded to the website at the end of February. Workshops are free and open to everyone, but booking is required to secure your place. A number of participation bursaries of up to £50 each are available to cover things like travel from outside Bristol or childcare costs, so please let us know if you require these when you make your booking.
In workshops you can learn about the history of feminism in a relaxed and creative atmosphere. Ever wanted to rummage around an archive but never had the confidence or opportunity to do it? This is your chance to give it a go! You don't have to have any experience or prior knowledge to attend.
Material from these workshops will be used to generate content for this website, and to create educational packs that will be launched in September 2013. Volunteers will also have the opportunity to shadow the project archivist in a series of workshops, in order to gain practical, hands-on experience of working in archives.
For further information about the project, including how to book places for the workshops, please contact: Dr Deborah Withers at fa_south@yahoo.co.uk.
The Heritage Lottery Fund (HLF) enables communities to celebrate, look after and learn more about our diverse heritage. From our great museums and historic buildings to local parks and beauty spots or recording and celebrating traditions, customs and history, HLF grants open up our nation's heritage for everyone to enjoy
Since 1994 it has supported more than 26,000 projects, allocating over £4 billion across the UK.
[soundcloud url="http://api.soundcloud.com/tracks/90150471″ params="" width=" 100%" height="166″ iframe="true" /]