Feminist activism is often omitted from histories, and the majority of mainstream media. One of the main reasons why the Feminist Archive was set up was to ensure that there is a safe, secure place where documentation of feminist movements can be collected so they are less likely to be forgotten.
Feminist activism can of course take many forms. But it is those activisms which are underground, subcultural and temporary that are particularly at risk from erasure from the history books.
This photo of a vibrant piece of graffiti located at the St Werburghs-St Pauls underpass near the M32 junction taken on 5 May 2013 with a smart phone, encapsulates all these aspects of feminist activism.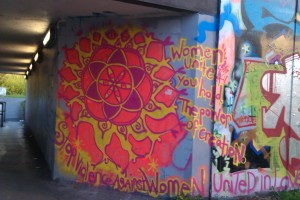 It is likely that this image, which has clearly been made to capture the attention, to force passer-bys to look again as the combination of text and colour emits a message of hope and social transformation, will be washed away by the council at some point in the next few days, weeks or months.
It will leave no physical record that can continue to tell the story of how this piece graphic communication intervenes into public space, and defiantly offers an alternative to the messages that are paraded on billboards, encouraging nothing more than a culture of excessive consumption and economic exploitation.
Everyday mobile technologies like smartphones (which of course are intimately bound up with capitalism), are tools to document these brazen messages that offer people the chance to dream, hope, live and create otherwise.
If you see other examples of feminist graffiti, please send them in and we can share them on this site.