In January 2013 the Feminist Archive South were awarded a grant from the Heritage Lottery Fund to catalogue Ellen Malos' archives.
The grant provided resources to employ a part time archivist and deliver a series of educational activities based on Ellen's archives and the holdings of the Feminist Archive South. The project ran for eight months, from February-September 2013.
Ellen Malos was a key figure in the Bristol Women's Liberation Movement. The first Women's Centre opened in the basement of her house in 1973, and her work supporting vulnerable women has been recognised through an Honoury Doctorate at Bristol University (2006), and in the naming of the Next Link Women's Safe House, 'Ellen Malos House' (12 June 2007).
As activist and later, academic, Ellen was at the forefront of advancing gender equality locally, nationally and transnationally. Her archive comprises rare historical material, including documents that have shaped some of the most significant legal and policy transformations within British history relating to gender quality.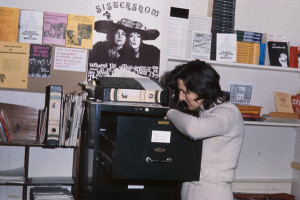 Ellen's archives are now fully catalogued and held at Special Collections at the University of Bristol under class mark DM2123/1/Archive Boxes 112-128.
Please contact Special Collections directly if you would like to arrange an appointment to read them.